Issue 8 of Photochemical & Photobiological Sciences is a themed issue on the Interaction of UV radiation with DNA and is now available to read online.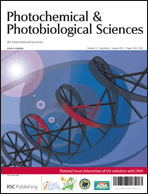 The front cover this month features work by Patrick Rochette and Justin Mallet from Québec, Canada. In their work they seek to shed light on the genotoxic effect of sunlight in the human eye, by  investigating cyclobutane pyrimidine dimer (CPD) induction in the cornea and the iris following irradiation of human eyes with different UV wavelengths (UVA, UVB and UVC).
Read the article in full – it's free to access for the next six weeks:
Wavelength-dependent ultraviolet induction of cyclobutane pyrimidine dimers in the human cornea
Justin D. Mallet and Patrick J. Rochette  
Photochem. Photobiol. Sci., 2013,12, 1310-1318, DOI: 10.1039/C3PP25408A

Keep up-to-date with the latest content in Photochemical & Photobiological Sciences by registering for our free table of contents alerts.