The latest issue of PPS is now available to read online!  This month's issue is a themed issue of contributions from the 7th European Meeting on Solar Chemistry & Photocatalysis: Environmental Applications (SPEA 7), held in Porto from 17th to 20th June 2012.  Read the Editorial by Guest Editors Joaquim Faria and Sixto Malato here.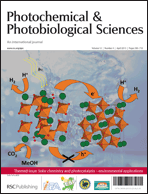 The front cover highlights work by Roland Marschall and co-workers from Ruhr-University Bochum, Germany.  They developed barium tantalate composites which showed enhanced photocatalytic hydrogen generation.  After preparing (111)-layered Ba5Ta4O15photocatalysts via a solid-state reaction route and a citrate synthesis route, X-ray powder diffraction and absorption spectroscopy determined the presence of a second phase – Ba3Ta5O15.  The Ba5Ta4O15/Ba3Ta5O15 composites demonstrated up to 160% higher hydrogen evolution rates than for pure Ba5Ta4O15.  In addition, only very small amounts of Rh co-catalyst (0.025%) were needed to achieve these results.
Read the full article for free for 6 weeks!
Enhanced photocatalytic hydrogen generation from barium tantalate composites, Roland Marschall, Julia Soldat and Michael Wark, Photochem. Photobiol. Sci., 2013, 12, 671-677
Stay up-to-date with the latest developments from Photochemical & Photobiological Sciences by signing up for free table of contents alerts.