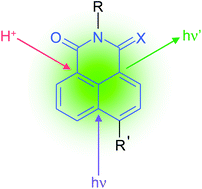 Naphthalenic compunds have many applications in the fluorescent sensing/switching/logic systems.  In this paper from A. Prasanna de Silva and colleagues at Queen's University in Belfast, the team examine a naphthalenic compund which is a fluorescent photoinduced electron transfer system of the 'fluorophore-spacer-receptor' format, whose fluorescence responds sharply to H+. Several structural variations of this compund are examined and it is deomonstrated that the naphthalenic derivatives display a range of H+-induced fluorescence switching actions.
For all the details read the article in full for free until 31st July:
Structural effects on the pH-dependent fluorescence of naphthalenic derivatives and consequences for sensing/switching
Shuai Zheng, P. L. Mark Lynch, Terence E. Rice, Thomas S. Moody, H. Q. Nimal Gunaratne and A. Prasanna de Silva
Photochem. Photobiol. Sci., 2012, Advance Article, DOI: 10.1039/C2PP25069A
You can keep up to date with the latest developments from Photochemical & Photobiological Sciences by signing up for free table of contents alerts.