Issue 43 of Organic & Biomolecular Chemistry has arrived, and featuring in this week's issue: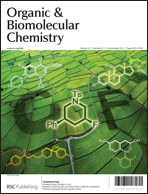 On the front cover:
A HOT Communication from Xiangbao Meng, Zhongjun Li and colleagues from Peking University presenting a convenient, metal-free method for the intramolecular oxidative aminofluorination of unactivated terminal alkenes. This new transformation represents an efficient method for the preparation of fluorine containing cyclic amines.
Metal-free intramolecular aminofluorination of alkenes mediated by PhI(OPiv)2/hydrogen fluoride–pyridine system
Qing Wang, Wenhe Zhong, Xiong Wei, Maoheng Ning, Xiangbao Meng and Zhongjun Li
DOI: 10.1039/C2OB26664D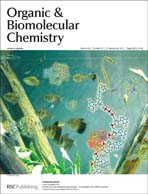 On the inside cover:
A Communication from Jacek Jemielity and co-workers, University of Warsaw, which is part of OBC's Nucleic acids: new life, new materials web collection. Jemielity et al. have developed a chemoenzymatic method for obtaining RNAs that are specifically labelled with biotin at the 5′ m7G cap moiety.

Synthesis of biotin labelled cap analogue – incorporable into mRNA transcripts and promoting cap-dependent translation
Jacek Jemielity, Maciej Lukaszewicz, Joanna Kowalska, Jakub Czarnecki, Joanna Zuberek and Edward Darzynkiewicz
DOI: 10.1039/C2OB26060C
Also in this issue – 5 additional HOT articles:

Concise and efficient syntheses of preQ1 base, Q base, and (ent)-Q base
Hans-Dieter Gerber and Gerhard Klebe

Inter- and intramolecular reactions of 1-deoxy-1-thio-1,6-anhydrosugars with α-diazoesters: synthesis of the tagetitoxin core by photochemical ylide rearrangement
Anne J. Price Mortimer, Julien R. H. Plet, Oluwafunsho A. Obasanjo, Nikolas Kaltsoyannis and Michael J. Porter

Synthesis and evaluation of novel 3-C-alkylated-Neu5Ac2en derivatives as probes of influenza virus sialidase 150-loop flexibility
Mark von Itzstein et al.

Synthesis and hybridization properties of oligonucleotides modified with 5-(1-aryl-1,2,3-triazol-4-yl)-2′-deoxyuridines
Mamta Kaura, Pawan Kumar and Patrick J. Hrdlicka

A cucurbit[8]uril sponge
Vijayakumar Ramalingam, Sharon K. Kwee, Lisa M. Ryno and Adam R. Urbach
Read the issue today! The articles on the covers are free to access for 6 weeks, and the HOT articles are free to access for 4 weeks!