6 pm, 26 September 2012
Chemistry Centre, Burlington House, London
Join us at the RSC's Chemistry Centre in London to hear about how synthetic organic chemistry can help to feed the world.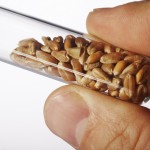 Azoxystrobin is the world's leading agricultural fungicide. It is a fully synthetic compound, whose invention was inspired by the structure and activity of the naturally-occurring fungicide strobilurin A. Today it is used worldwide to control fungi growing on over 120 types of crop, improving plant health, raising quality and increasing yield. The success of the project highlights the crucial importance of chemistry in meeting grand challenges such as global food security and the broader applicability of skills such as natural product synthesis. Our keynote speaker Dr John Clough led the team of chemists at Syngenta that invented azoxystrobin. He will discuss the key role that synthetic organic chemistry played in creating an effective and safe fungicide.
This event will be held in the Chemistry Centre on 26 September at the RSC's recently refurbished building in Burlington House, London. Doors will open at 17:30 for refreshments. The event will begin at 18:00 and will finish with a wine reception. Please follow the link here for information and to register for the event.