OBC issue 37 has arrived, hot off the press, so why not put your feet up and have a cup of coffee as you browse through its contents. Prefer decaf? Well the work on this week's front cover might be able to help you find out if that coffee you have really is decaffeinated…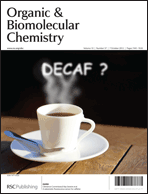 …. Kay Severin and colleagues from École Polytechnique Fédérale de Lausanne (EPFL) have synthesised a dye (3,4:3',4'-bibenzo[b]thiophene-2,2'-disulfonate) that can be used as a sensitive and selective molecular probe for the fluorimetric detection of caffeine in water with a better sensitivity and selectivity than previously reported caffeine sensors.
A ratiometric fluorescence sensor for caffeine
Nicolas Luisier, Albert Ruggi, Stephan N. Steinmann, Laurane Favre, Nicolas Gaeng, Clémence Corminboeuf and Kay Severin
On the inside cover is a communication from P. Venkatesu et al. demonstrating the ability of water and a protic ionic liquid, triethyl ammonium phosphate (TEAP) to act as refolding additives for the urea-induced chemical denaturated state of the two enzymes, α-chymotrypsin and succinylated Con A. Water and TEAP are shown to efficient and effective additives, with the enzymatic activity of the enzymes' being regained and in some cases even enhanced.
Water and a protic ionic liquid acted as refolding additives for chemically denatured enzymes
Pankaj Attri, P. Venkatesu and Anil Kumar
Both articles can be downloaded free for the next 6 weeks, and they are just a click away….