The cover of this week's OBC features work from Min Shi et al. at Shanghai Institute of Organic Chemistry and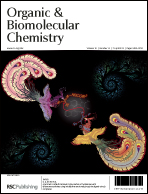 Texas Tech University, who have used chiral zinc(II)–imidazoline–phosphine complexes in a novel catalytic system for the asymmetric Mannich-type difluorination of hydrazones with difluoroenoxysilanes.
Asymmetric catalytic Mannich-type reaction of hydrazones with difluoroenoxysilanes using imidazoline-anchored phosphine ligand–zinc(II) complexes
Zhiliang Yuan, Liangyong Mei, Yin Wei, Min Shi, Padmanabha V. Kattamuri, Patrick McDowell and Guigen Li
Org. Biomol. Chem., 2012, 10, 2509-2513
DOI: 10.1039/C2OB07022G
Read the full Communication; it is FREE to access for the next 6 weeks.
This issue also contains:
A Perspective review article: On a so-called "kinetic anomeric effect" in chemical glycosylation, by Ian Cumpstey
as well as the HOT article:
Synthesis and protein binding studies of a peptide fragment of clathrin assembly protein AP180 bearing an O-linked β-N-acetylglucosaminyl-6-phosphate modification
Mark E. Graham, Robin S. Stone, Phillip J. Robinson and Richard J. Payne
If you liked these why not have a look at the rest of the issue here