Welcome to OBC issue 10!
OBC's cover this week features work by Helma Wennemers et al. at the University of Basel (Switzerland), who have used click chemistry to introduce moieties as sterically demanding as monosaccharides into the Yaa position of collagen model peptides, and studied the effect of different triazolyl derivatives as well as the configuration of the functionalized proline residue on the thermal stability of the collagen triple helices.
Conformational stability of collagen triple helices functionalized in the Yaa position by click chemistry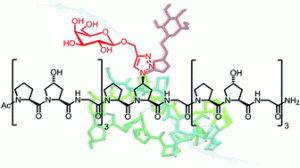 Roman S. Erdmann and Helma Wennemers
Org. Biomol. Chem., 2012, 10, 1982-1986
DOI: 10.1039/C2OB06720J
As with all of our cover articles, it will be FREE to access for the next 6 weeks
This article is part of OBC's web-themed issue on Foldamer Chemistry – View the full collection of articles here
The issue also contains:
three 'Hot Articles'…
Fungal biofilm inhibitors from a human oral microbiome-derived bacterium
Xiaoru Wang, Lin Du, Jianlan You, Jarrod B. King and Robert H. Cichewicz
Lipothiophosphoramidates for gene delivery: critical role of the cationic polar headgroup
Aurore Fraix, Tristan Montier, Tony Le Gall, Charlotte M. Sevrain, Nathalie Carmoy, Mattias F. Lindberg, Pierre Lehn and Paul-Alain Jaffrès
Fluorogenic sensing of CH3CO2− and H2PO4− by ditopic receptor through conformational change
Nisar Ahmed, Vangaru Suresh, Bahareh Shirinfar, Inacrist Geronimo, Amita Bist, In-Chul Hwang and Kwang S. Kim
and that's just a taster… we hope you enjoy the whole issue!