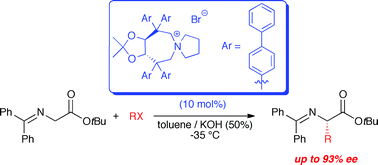 Mario Waser et al. have designed new N-spiro quaternary ammonium salt-based catalysts from tartaric acid-derived TADDOLs.  The new catalysts catalyse the asymmetric α-alkylation of glycine Schiff bases in good yields and up to 93% ee.
Design, synthesis, and application of tartaric acid derived N-spiro quaternary ammonium salts as chiral phase-transfer catalysts
Mario Waser, Katharina Gratzer, Richard Herchl and Norbert Müller
DOI: 10.1039/C1OB06573D
This article is part of a joint ChemComm & OBC web theme issue on Organocatalysis.
Keep checking this page as further articles are added to the web theme issue.