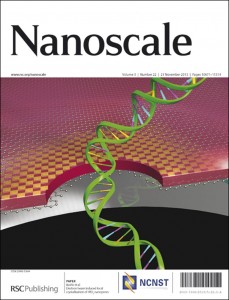 Nanoscale is delighted to present its current issue.
Electron beam induced local crystallization of HfO 2 nanopores for biosensing applications is the article highlighted on the outside front cover by Jiwook Shim, Jose A. Rivera and Rashid Bashir.
The inside front cover features an article on Single Particle Orientation and Rotational Tracking (SPORT) in biophysical studies by Yan Gu, Ji Won Ha, Ashley E. Augspurger, Kuangcai Chen, Shaobin Zhu and Ning Fang.
Issue 21 contains the following Review, Feature, and Opinion articles:
Nanostructure-based optoelectronic sensing of vapor phase explosives – a promising but challenging method
Baiyi Zu, Yanan Guo and Xincun Dou, Nanoscale
Current and emerging challenges of field effect transistor based bio-sensing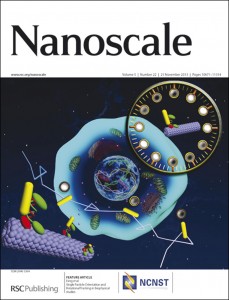 Akira Matsumoto and Yuji Miyahara, Nanoscale
Intravenous hemostats: challenges in translation to patients
Margaret Lashof-Sullivan, Andrew Shoffstall and Erin Lavik, Nanoscale
Recent advances in surface chemistry strategies for the fabrication of functional iron oxide based magnetic nanoparticles
Kostiantyn Turcheniuk, Arkadii V. Tarasevych, Valeriy P. Kukhar, Rabah Boukherroub and Sabine Szunerits, Nanoscale
Synthesis of graphene-supported noble metal hybrid nanostructures and their applications as advanced electrocatalysts for fuel cells
Chengzhou Zhu and Shaojun Dong, Nanoscale
Single cycle and transient force measurements in dynamic atomic force microscopy
Karim Gadelrab, Sergio Santos, Josep Font and Matteo Chiesa, Nanoscale
Hot spots in different metal nanostructures for plasmon-enhanced Raman spectroscopy
Hong Wei and Hongxing Xu, Nanoscale