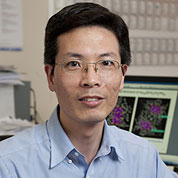 We are delighted to announce that Professor Rongchao Jin of Carnegie Mellon University has joined Nanoscale as an Associate Editor.
Prof. Jin's research covers the synthesis, characterization, and applications of nanoparticles. His group develop chemical methods for synthesizing new types of inorganic nanoclusters and nanocrystals, hybrid nano-architectures, and inorganic/polymer nanocomposites. He is also very interested in the applications of nanoparticles in catalysis, optics, chemo- and bio-sensing, and photovoltaics.
Professor Jin was co-Guest Editor on the recent Nanoscale themed issue on Metallic Clusters which, according to his Editorial "offers a snapshot of the very diverse research work being carried out on metal clusters" from fundamental to applied research.
Read Prof. Jin's popular review on gold nanoclusters and his recent articles in this area today:
Quantum sized, thiolate-protected gold nanoclusters
Rongchao Jin
DOI: 10.1039/B9NR00160C
Water-soluble Au25(Capt)18 nanoclusters: synthesis, thermal stability, and optical properties
Santosh Kumar and Rongchao Jin
DOI: 10.1039/C2NR30833A
Unexpected reactivity of Au25(SCH2CH2Ph)18 nanoclusters with salts
Manzhou Zhu, Gerentt Chan, Huifeng Qian and Rongchao Jin
DOI: 10.1039/C0NR00878H
We welcome your submissions to Prof. Jin's Editorial Office. Submit your best work to Nanoscale.