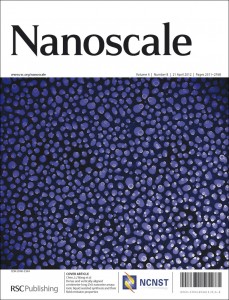 Nanoscale Associate Editor Professor Jianfang Wang, an expert in the field of plasmonics, has highlighted some excellent plasmonics articles recently published in Nanoscale.
You can read these articles for free for a limited period by clicking on the links below.
Prof. Wang and Nanoscale co-Editor-in-Chief Francesco Stellacci will be attending the Gordon Research Conference on Noble Metal Nanoparticles – do say hello if you are there. Nanoscale is delighted to be a sponsor of the meeting.
With an international readership, across the many disciplines involved with nanoscience and nanotechnology, Nanoscale is the ideal place to publish your research.
Submit you best research to Nanoscale.
Read Professor Wang's Editor's choice selection for free today:
Review Articles

Controlled assembly of plasmonic colloidal nanoparticle clusters
José M. Romo-Herrera, Ramón A. Alvarez-Puebla and Luis M. Liz-Marzán
DOI: 10.1039/C0NR00804D
Free-standing one-dimensional plasmonic nanostructures
Lin Jiang, Yinghui Sun, Fengwei Huo, Hua Zhang, Lidong Qin, Shuzhou Li and Xiaodong Chen
DOI: 10.1039/C1NR11445J
Molding the flow of light on the nanoscale: from vortex nanogears to phase-operated plasmonic machinery
Svetlana V. Boriskina and Björn M. Reinhard
DOI: 10.1039/C1NR11406A
Emerging fabrication techniques for 3D nano-structuring in plasmonics and single molecule studies
F. De Angelis, C. Liberale, M. L. Coluccio, G. Cojoc and E. Di Fabrizio
DOI: 10.1039/C1NR10124B
Original Research
Three-tiered Au nano-disk array for broadband interaction with light
Jung-Sub Wi, Masud Rana and Tadaaki Nagao
DOI: 10.1039/C2NR30179B
Nanoplasmonic sensing of metal–halide complex formation and the electric double layer capacitor
Andreas B. Dahlin, Raphael Zahn and Janos Vörös
DOI: 10.1039/C2NR11950A
Light concentration and redistribution in polymer solar cells by plasmonic nanoparticles
Jinfeng Zhu, Mei Xue, Ryan Hoekstra, Faxian Xiu, Baoqing Zeng and Kang L. Wang
DOI: 10.1039/C2NR11920J
High-throughput ultrasensitive characterization of chemical, structural and plasmonic properties of EBL-fabricated single silver nanoparticles
Tao Huang, Wei Cao, Hani E. Elsayed-Ali and Xiao-Hong Nancy Xu
DOI: 10.1039/C1NR11368B
Mechanism of nanoparticle actuation by responsive polymer brushes: from reconfigurable composite surfaces to plasmonic effects
Yuri Roiter, Iryna Minko, Dmytro Nykypanchuk, Ihor Tokarev and Sergiy Minko
DOI: 10.1039/C1NR10932D
Surface plasmon resonance-induced visible light photocatalytic reduction of graphene oxide: Using Ag nanoparticles as a plasmonic photocatalyst
Tongshun Wu, Sen Liu, Yonglan Luo, Wenbo Lu, Lei Wang and Xuping Sun
DOI: 10.1039/C1NR10128E
Strong photoluminescence enhancement of silicon quantum dots by their near-resonant coupling with multi-polar plasmonic hot spots
T. Nychyporuk, Yu. Zakharko, T. Serdiuk, O. Marty, M. Lemiti and V. Lysenko
DOI: 10.1039/C1NR10241A
Enhancement of dye-sensitized photocurrents by gold nanoparticles: effects of dye–particle spacing
Tokuhisa Kawawaki, Yukina Takahashi and Tetsu Tatsuma
DOI: 10.1039/C1NR10416K
Facile solvothermal synthesis of cube-like Ag@AgCl: a highly efficient visible light photocatalyst
Lei Han, Ping Wang, Chengzhou Zhu, Yueming Zhai and Shaojun Dong
DOI: 10.1039/C1NR10247H
Nanoscale semiconductor–insulator–metal core/shell heterostructures: facile synthesis and light emission
Gong Ping Li, Rui Chen, Dong Lai Guo, Lai Mun Wong, Shi Jie Wang, Han Dong Sun and Tom Wu
DOI: 10.1039/C1NR10352K
Dark-field microscopy studies of polarization-dependent plasmonic resonance of single gold nanorods: rainbow nanoparticles
Youju Huang and Dong-Hwan Kim
DOI: 10.1039/C1NR10336A
Au@Ag core–shell nanoparticles: efficient all-plasmonic Fano-resonance generators
Ovidio Peña-Rodríguez and Umapada Pal
DOI: 10.1039/C1NR10625B
Highly effective SERS substrates based on an atomic-layer-deposition-tailored nanorod array scaffold
Monan Liu, Li Sun, Chuanwei Cheng, Hailong Hu, Zexiang Shen and Hong Jin Fan
DOI: 10.1039/C1NR10595G
Plasmon-induced modulation of the emission spectra of the fluorescent molecules near gold nanorods
Lei Zhao, Tian Ming, Huanjun Chen, Yao Liang and Jianfang Wang
DOI: 10.1039/C1NR10544B
Can information of chemical reaction propagate with plasmonic waveguide and be detected at remote terminal of nanowire?
Mengtao Sun, Yanxue Hou and Hongxing Xu
DOI: 10.1039/C1NR10981B
Development of a mass-producible on-chip plasmonic nanohole array biosensor
Kohei Nakamoto, Ryoji Kurita, Osamu Niwa, Toshiyuki Fujii and Munehiro Nishida
DOI: 10.1039/C1NR10883B
Enhancing photocatalytic activity of one-dimensional KNbO3 nanowires by Au nanoparticles under ultraviolet and visible-light
Jinyao Lan, Xuemei Zhou, Gang Liu, Jiaguo Yu, Jingchang Zhang, Linjie Zhi and Guangjun Nie
DOI: 10.1039/C1NR10953G
Excitation profile of surface-enhanced Raman scattering in graphene–metal nanoparticle based derivatives
Xiaoqi Fu, Fengli Bei, Xin Wang, Stephen O'Brien and John R. Lombardi
DOI: 10.1039/C0NR00135J
Sign up to receive our free table-of-contents e-alert at www.rsc.org/alerts and be among the first to read our newest articles.