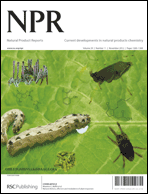 Welcome to Natural Product Reports Issue 11, 2012
The cover this month illustrates work by Massimo E. Maffei (University of Turin) et al. presenting the diversity of plants defense mechanisms that are activated when plants are under attack from potentially dangerous microbes and insect herbivores, and plant-plant interactions. Enjoy FREE access to this article for the next 6 weeks upon a simple registration process:
Natural elicitors, effectors and modulators of plant responses
Massimo E. Maffei, Gen-Ichiro Arimura and Axel Mithöfer
DOI: 10.1039/C2NP20053H
Also in this issue, read:
Bioactive natural products from Lysobacter
Yunxuan Xie, Stephen Wright, Yuemao Shen and Liangcheng Du
DOI: 10.1039/C2NP20064C
Natural product 'legal highs'
Warunya Arunotayanun and Simon Gibbons
DOI: 10.1039/C2NP20068F
Natural stilbenoids: distribution in the plant kingdom and chemotaxonomic interest in Vitaceae
Céline Rivière, Alison D. Pawlus and Jean-Michel Mérillon
DOI: 10.1039/C2NP20049J
Natural sesquiterpenoids
Braulio M. Fraga
DOI: 10.1039/C2NP20074K
Guest edited by Professor Christopher Walsh and Dr Sylvie Garneau-Tsdodikova, the issue contains some of the newest discoveries in the field, along with 9 review articles that will lead the reader through exciting natural products research. Let us know what you think!