Welcome to NPR Issue 3, 2013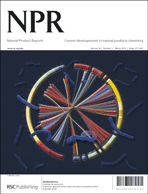 I do not know about you, but I find these circular genome data visualization plots make amazing covers. The one featured on this month's issue illustrates the exciting review article by Christian Hertweck et al., presenting a genomic approach to the cryptic secondary metabolome of the anaerobic word.
Read this article for Free for the next 6 weeks – and let us know what you think by posting a comment below!
You will remember that Professor Hertweck was the winner of the 2011 NPR Lecture Award, and so that you may read more about his work at the forefront of natural products research, we've collated two of his previous NPR review articles below:
The chemistry and biology of cytochalasans
Kirstin Scherlach, Daniela Boettger, Nicole Remme and Christian Hertweck
Nat. Prod. Rep., 2010, 27, 869-886 
Type II polyketide synthases: gaining a deeper insight into enzymatic teamwork
Christian Hertweck, Andriy Luzhetskyy, Yuri Rebets and Andreas Bechthold
Nat. Prod. Rep., 2007, 24, 162-190 

This issue's Highlight article is by John A. Porco Jr. et al. and summarizes key advancements in the construction of polycyclic xanthones, which have recently attracted significant attention due to their potential as antitumour agents.
Then, Victoria L. Challinor and James J. De Voss review the structure elucidation, bioactivities, biosynthesis, and distribution in the plant kingdom of open-chain steroidal glycosides, which represent a numerous, structurally diverse class of plant saponins.
Finally Yonghong Liu et al. provide an up-to-date account of sesterterpenoids, which structural conciseness and diverse bioactivity have made them attractive targets to the synthetic chemist, with biomedical purposes. 
Short and sweet, a selection we hope you will like!