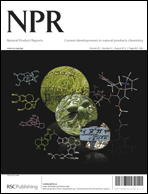 Welcome to Natural Product Reports Issue 8, 2012
Featuring on this month's cover is work by Hajer Abdelkafi and Bastien Nay at the Museum National d'Histoire Naturelle (CNRS-MNHN, Paris, France) on natural products from the Cephalotaxus sp., which belongs to the Cephalotaxaceae family of conifers.
This genus has showed to provide both interesting alkaloids with anticancer potential, and original norditerpene tropones with cytotoxic activity. In this review article the authors present a phytochemical update and discuss the total synthesis of alkaloids and terpenoids in detail.
Natural products from Cephalotaxus sp.: chemical diversity and synthetic aspects
Hajer Abdelkafi and Bastien Nay
DOI: 10.1039/C2NP20037F
Why not also read in this issue:
Robert A. Hill and Andrew Sutherland's Hot off the Press showcasing a personal selection of 32 recent papers covering current developments in bioorganic chemistry and novel natural products such as lycojaponicumin A from Lycopodium japonicum:
Like what you read? If you would like to contribute an article to NPR, please contact the editorial office with a proposed topic and we will be pleased to evaluate your synopsis.