Welcome to Natural Product Reports Issue 9, 2012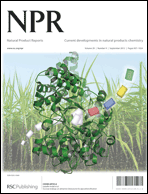 NPR's cover this month features artwork by Isabelle Andre et al. that illustrates their review article covering the main biological routes to sucrose derivatives or analogs that are prevalent in nature. The review also higlights the potential applications of sucrose derivatives in sugar bioconversion, in particular through the engineering of substrates, enzymes or microorganisms.
Sucrose analogs: an attractive (bio)source for glycodiversification
David Daudé, Magali Remaud-Siméon and Isabelle André
DOI: 10.1039/C2NP20054F
Enjoy FREE access to this article for the next 6 weeks upon a simple registration process.
Also in this September issue, we trust you will find the following reviews intersting and stimulating to read. Let us know what you think by leaving a comment below!