Organic & Biomolecular Chemistry, our sister journal, publishes many articles that cover a variety of natural product chemistry.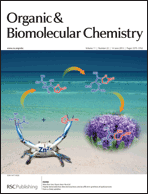 We try to keep you updated here, although your best bet is for you to sign up to OBC's e-alert (free service), and receive the tables of content directly in your inbox every time an issue is published.
Hand-picked for you from the latest issues are:
Total synthesis of (+)-pentamethylsalvianolic acid C
Benjamin L. Alford and Helmut M. Hügel
Org. Biomol. Chem., 2013,11, 2724-2727
DOI: 10.1039/C3OB27478K, Paper
Concise total syntheses of (±)-noruleine and (±)-uleine
Süleyman Patir and Erkan Ertürk
Org. Biomol. Chem., 2013,11, 2804-2810
DOI: 10.1039/C3OB40180D, Paper
A concise approach to the spiroiminal fragment of marineosins
Guang Li, Xun Zhang, Qi Li, Pengju Feng and Yian Shi
Org. Biomol. Chem., 2013,11, 2936-2938
DOI: 10.1039/C3OB40208H, Communication
Highly stereoselective directed reactions and an efficient synthesis of azafuranoses from a chiral aziridine
Hogyu Lee, Jun Hee Kim, Won Koo Lee, Jaeheung Cho, Wonwoo Nam, Jaedeok Lee and Hyun-Joon Ha
Org. Biomol. Chem., 2013,11, 3629-3634
DOI: 10.1039/C3OB27390C, Paper
We hope you enjoy this selection! Let us know what you think…
… and why not submit your latest natural product research to OBC today?