Organic & Biomolecular Chemistry, our sister journal, publishes many articles that cover a variety of natural product chemistry.
We try to keep you updated here, although signing up to OBC's e-alert (free service) means you will receive the tables of content directly in your inbox every time an issue is published.
Hand-picked for you from the latest issues are: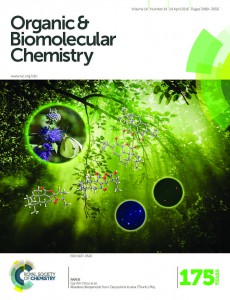 Synthesis of new dicinnamoyl 4-deoxy quinic acid and methyl ester derivatives and evaluation of the toxicity against the pea aphid Acyrthosiphon pisum
Xiubin Li, Lucie Grand, Thomas Pouleriguen, Yves Queneau, Pedro da Silva, Yvan Rahbé, Jean-Luc Poëssel and Sylvie Moebs-Sanchez
DOI: 10.1039/C5OB02483H, Paper
---
Inhibition of HL-60 cell growth via cell cycle arrest and apoptosis induction by a cycloartane–labdane heterodimer from Pseudolarix amabilis
Xinhui Tian, Niao Yang, Bo Li, Jianping Zhang, Xike Xu, Rongcai Yue, Huiliang Li, Liping Chen, Yunheng Shen and Weidong Zhang
DOI
: 10.1039/C5OB02661J, Paper
---
A convenient approach to an advanced intermediate toward the naturally occurring, bioactive 6-substituted 5-hydroxy-4-aryl-1H-quinolin-2-ones
Sebastián O. Simonetti, Enrique L. Larghi and Teodoro S. Kaufman
DOI
: 10.1039/C5OB02680F, Paper
---
Talaroketals A and B, unusual bis(oxaphenalenone) spiro and fused ketals from the soil fungus Talaromyces stipitatus ATCC 10500
Yi Zang, Grégory Genta-Jouve, Pascal Retailleau, Alexandre Escargueil, Stéphane Mann, Bastien Nay and Soizic Prado
DOI
: 10.1039/C5OB02657A, Paper
---
A bio-inspired synthetic route to the core ring systems of Spiraea atisine-type diterpenoid alkaloids and related diterpenes
Dai-Hui Tang, Ding Ma, Hang Cheng, Yong-Li Li and Liang Xu
DOI
: 10.1039/C6OB00053C, Paper
---
Synthesis of rocaglamide derivatives and evaluation of their Wnt signal inhibitory activities
Midori A. Arai, Yuuki Kofuji, Yuuki Tanaka, Natsuki Yanase, Kazuki Yamaku, Rolly G. Fuentes, Utpal Kumar Karmakar and Masami Ishibashi
DOI
: 10.1039/C5OB02537K, Paper
---
Four new carbazole alkaloids from Murraya koenigii that display anti-inflammatory and anti-microbial activities
Yedukondalu Nalli, Vidushi Khajuria, Shilpa Gupta, Palak Arora, Syed Riyaz-Ul-Hassan, Zabeer Ahmed and Asif Ali
DOI
: 10.1039/C6OB00267F, Paper
---
Solution-state conformations of natural products from chiroptical spectroscopy: the case of isocorilagin
R. F. Sprenger, S. S. Thomasi, A. G. Ferreira, Q. B. Cass and J. M. Batista Junior
DOI
: 10.1039/C6OB00049E, Paper
---
A single terpene synthase is responsible for a wide variety of sesquiterpenes in Sorangium cellulosum Soce56
Alexander Schifrin, Yogan Khatri, Philine Kirsch, Verena Thiel, Stefan Schulz and Rita Bernhardt
DOI
: 10.1039/C6OB00130K, Paper
---
Synthesis and absolute configuration assignment of albucidin: a late-stage reductive deiodination by visible light photocatalysis
Hu Zhang, Peng-Fei Liu, Qiong Chen, Qiong-You Wu, Anne Seville, Yu-Cheng Gu, John Clough, Shao-Lin Zhou and Guang-Fu Yang
DOI
: 10.1039/C6OB00371K, Paper
---
We hope you enjoy this selection!
Why not submit your latest natural product research to OBC today?