Organic & Biomolecular Chemistry, our sister journal, publishes many articles that cover a variety of natural product chemistry.
We try to keep you updated here, although signing up to OBC's e-alert (free service) means you will receive the tables of content directly in your inbox every time an issue is published.
Hand-picked for you from the latest issues are:
Benjamin K. W. Chung and Andrei K. Yudin
DOI: 10.1039/C5OB01115A, Review Article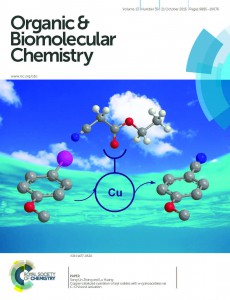 ---
Raju S. Thombal and Vrushali H. Jadhav
DOI: 10.1039/C5OB01276G, Paper
---
U. A. Kshirsagar
DOI: 10.1039/C5OB01379H, Review Article
---
Mostafa E. Rateb, Yin Zhai, Emmanuelle Ehrner, Christopher M. Rath, Xiaoling Wang, Jioji Tabudravu, Rainer Ebel, Mervin Bibb, Kwaku Kyeremeh, Pieter C. Dorrestein, Kui Hong, Marcel Jaspars and Hai Deng
DOI: 10.1039/C5OB01269D, Paper
---
Laura K. Smith and Ian R. Baxendale
DOI: 10.1039/C5OB01524C, Review Article
---
Russell B. Williams, Mark O'Neil-Johnson, Antony J. Williams, Patrick Wheeler, Rostislav Pol and Arvin Moser
DOI: 10.1039/C5OB01713K, Comment
---
Ichiro Hayakawa, Tomomi Nakamura, Osamu Ohno, Kiyotake Suenaga and Hideo Kigoshi
DOI: 10.1039/C5OB01488C, Paper
---
Haibo Tan, Hongxin Liu, Xinzheng Chen, Huiyu Chen and Shengxiang Qiu
DOI: 10.1039/C5OB01636C, Paper
---
James McNulty, Kunal Keskar, Hilary A. Jenkins, Nick H. Werstiuk, Claudia Bordón, Robert Yolken and Lorraine Jones-Brando
DOI: 10.1039/C5OB01506E, Paper
---
We hope you enjoy this selection!
Why not submit your latest natural product research to
OBC
today?