Welcome to NPR Issue 2, one of the most exciting issues of Natural Product Reports: the Marine Natural Products themed issue.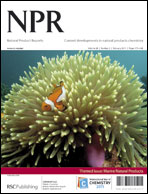 This themed issue has been guest edited by four of our Editorial Board members: Marcel Jaspars, Bradley Moore, Joern Piel and Russell Cox.
Let me say thanks to all of them for their enthusiasm and hard work putting this very interesting issue together.
This issue covers a number of aspects of marine natural product chemistry. From their structural diversity and synthesis to their natural function and their ecological role. Discover everything this marine natural products themed issue offers and read it now.
If you want to take a look at the first Marine Natural themed issue published in 2004 you can do it here:
Marine Natural Products 2004
Enjoy it!