Selective sensing of phosphates derivatives, including nucleotides and inorganic phosphates, is high on the targets list due to their pivotal role in biological systems. In this NJC paper, Kumaresh Ghosh et al. (University of Kalyani, India) have designed a simple pincer-like receptor that selectively recognises tetra- butylammonium dihydrogenphosphate in CH3CN over a series of other anions by exhibiting characteristic excimer emission in fluorescence. Also the simple receptor 1 fluoro- metrically distinguishes ATP from ADP and AMP in aqueous CH3CN.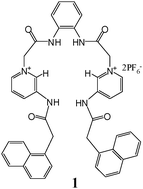 Interested? Why not read this 'Hot Article' now!
It is FREE to access for a period of 4 weeks, upon a simple registration process.
A new ortho-phenylenediamine-based cleft for selective sensing of H2PO4− and ATP, Kumaresh Ghosh and Indrajit Saha
New J. Chem., 2011, Advance Article
DOI: 10.1039/C1NJ20116F