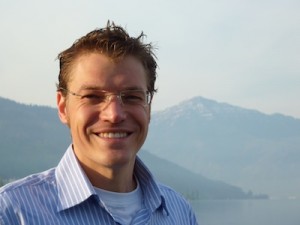 Faces behind the research: Learn more about some of our authors and check out their latest entries.
Gilles Gasser is Assistant Professor at the Institute of Inorganic Chemistry, University of Zurich, Switzerland. His current research focuses on two main research topics, namely medicinal inorganic chemistry and inorganic chemical biology. In particular using metal complexes to modify or understand biological processes in living cells. In their NJC paper Gilles and his co-workers describe the full characterization by electrochemistry of two new ferrocene-containing ligands as well as their complexes with five different transition metal ions. Two X-ray structures of CuII complexes were determined, which contain a rare CuII–I2–CuII bridge.
"We felt that our results deserved to be published in an interdisciplinary journal with high visibility. New J. Chem. was therefore the ideal journal to report this work!"
Besides his research activity, Gilles enjoys long-distance running, travelling and hiking in the mountains.
Electrochemical, spectroscopic, magnetic and structural studies of complexes bearing ferrocenyl ligands of N-(3-hydroxypicolinoyl)picolinamide by Gilles Gasser, Cristina Mari, Michelle Burkart, Stephen J. Green, Joan Ribas, Helen Stoeckli-Evans and James H. R. Tucker, New J. Chem., 2012, 36, 1819–1827, DOI: 10.1039/C2NJ40177K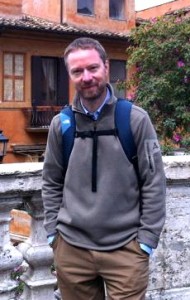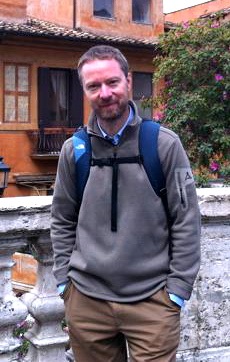 Jens Hasserodt, Professor of Chemistry at the Ecole Normale Superieure de Lyon at the University of Lyon, France. Jens's research area involves small-molecule probes for molecular and functional imaging of enzymes.
His contribution to this month's issue is a Focus article that reviews, in the context of the existing literature, his own recent contribution of a magnetogenic probe. This small iron-based coordination compound turns its sample from diamagnetic (off) to paramagnetic (on) upon addition of a specific chemical reactant.
On the main motivation for submitting his work in NJC, Jens comments: "Because of its declared and pursued orientation toward new directions in chemistry."
Choir singing, biking, mountain hiking, literature and concerts are Jens' favorite activities outside the lab.
Magnetogenic probes that respond to chemical stimuli in an off–on mode by Jens Hasserodt, New J. Chem., 2012, 36, 1707-1712, DOI: 10.1039/C2NJ40209B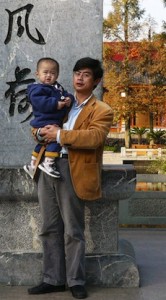 Our last author is Jianguo Huang , who is Professor at the Department of Chemistry, Zhejiang University, China.
His research interests are in the area of functional nanostructured materials based on self-assembly approaches, biomimetic syntheses, and surface chemistry.
In their NJC article, Jianguo Huang and his colleagues demonstrated that self-assembling colloidal particles is a unique pathway to produce functional materials with tailored physical properties. Their work presents a facile self-assembly approach to organize colloidal microspheres into free-standing hollow structured microtubes, which possess considerable potentials for the applications in various areas such as photonic crystal, separation and cellular immunoisolation.
On choosing NJC to publish this work, Jianguo comments: "I have been impressed with the new opinions that can always be found in NJC, and I am very satisfied with the rapid publication process in this journal. I am sure that NJC will be an indispensable journal for the chemists worldwide to seek for new ideas in the coming future."
In his free time, Jianguo enjoys reading classical literature and history.
Facile fabrication of free-standing microtubes composed of colloidal spheres by Xiaoyan Liu and Jianguo Huang, New J. Chem., 2012, 36, 1729-1732, DOI: 10.1039/C2NJ40486A
Fancy submitting an article to NJC? Then why not submit to us today or alternatively email us your suggestions.