Here is a selection of young author profiles from the 2012 July issue of NJC. We thank them most warmly for accepting our invitation and having kindly taken their time to answer a few questions for us.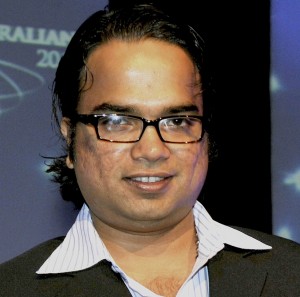 Our first author is Dr K. Swaminathan Iyer, who is currently an ARC Australian Research Fellow at the School of Chemistry and Biochemistry in the University of Western Australia. He is interested in nanobiotechnology and his contribution to this issue reports a method to develop a nanoscale drug-delivery agent using a block copolymer, with insight into how the drug-delivery vehicle can be monitored via two different imaging techniques, namely MRI and fluorescence imaging. "The most exciting moment in my research is to see a concept germinating into an experimentally verified reality" says Swaminathan. When asked for what the coolest thing about science is, he answered "A never ending opportunity to learn." After work, cooking is a favoured leisure activity for Swaminathan.
"Multimodal and Multifunctional Stealth Block Copolymer Nanospheres for Sustained Drug Delivery" Cameron W. Evans,  Melissa J. Latter,  Diwei Ho,  Saquib Ahmed M. A. Peerzade,  Tristan D. Clemons,  Melinda Fitzgerald,  Sarah A. Dunlop and K. Swaminathan Iyer, New J. Chem, 2012 , 36, 1457–1462. DOI: 10.1039/C2NJ40016B.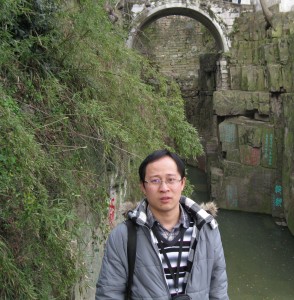 Dr Lin Xu is a young lecturer in the Chemistry Department at East China Normal University. His research focuses on the field of fluorescent probes and sensors as well as small molecular inhibitors. As a first co-author, he contributed a paper in this issue on a new rhodamine-based fluorescent probe for Hg2+. The relevant ensemble can serve as a fluorescent probe for iodide and bromide by metal ion removal and anion ligand exchange, presenting a novel fluorescence sensing mechanism. "Teaching is a holy career. My passion motivates myself to be a good supervisor and a qualified researcher". Besides teaching and research, he enjoys playing Ping-Pong, a national sport in China. For Dr. Xu, the coolest thing about science is that there is no end to science.
"Fluorescence sensing of iodide and bromide in aqueous solution: anion ligand exchanging and metal ion removing" L. Xu,  Y. Xu,  W. Zhu,  Z. Xu,  M. Chen and X. Qian, New J. Chem., 2012, 36, 1435–1438. DOI: 10.1039/C2NJ40102A.