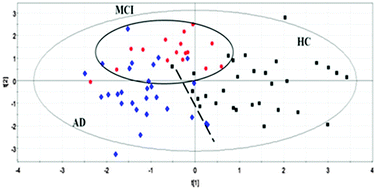 This post has been written by Polly-Anna Ashford, a PhD student at the University of East Anglia, web-writer for Analyst and Analytical Methods and guest web-writer for Metallomics.
The role of metals in the progression of Alzheimer's disease (AD) has been under investigation since the 1990s. Essential metals such as iron, copper and zinc have been linked to changes in proteins in AD patients. Toxic metals like arsenic and lead are also implicated, and aluminium is believed to have a significant role in degeneration. The measurement of metal concentrations in the brain is therefore an important investigative tool for AD researchers. The characterisation of metal ion complexes and metalloproteins is traditionally carried out by separation of the species by techniques such as size exclusion chromatography, followed by inductively coupled plasma mass spectrometry (ICP-MS).
1
In this study, led by Tamara García-Barrera and José Luis Gómez-Ariza at the University of Huelva, Spain, human blood serum samples were analysed by ICP-MS to establish the concentration of a range of different elements. The researchers were able to distinguish between high and low molecular weight metal species by precipitating the proteins and analysing both the supernatant and the precipitate. Samples from patients with mild cognitive impairment (MCI) and Alzheimer's disease were compared with healthy controls. From the results of their high throughput methodology, the authors have been able to draw significant conclusions about the link between changes in brain metal concentration and the advancement of neurodegenerative processes.
You can download the full artice below, which is free to access until March 3rd
Characterization of metal profiles in serum during the progression of Alzheimer's disease
Raúl González-Domínguez, Tamara García-Barrera and José Luis Gómez-Ariza
Metallomics, 2014, 6, 292-300
DOI: 10.1039/C3MT00301A