In this review Ewa Maria Musiol and Tilmann Weber at Eberhard Karls University, Tübingen  present a summary of genetically and biochemically characterized in trans active ATs, which supply polyketide synthases assembly lines with building blocks and thus, might influence the polyketide structure by their substrate selectivity.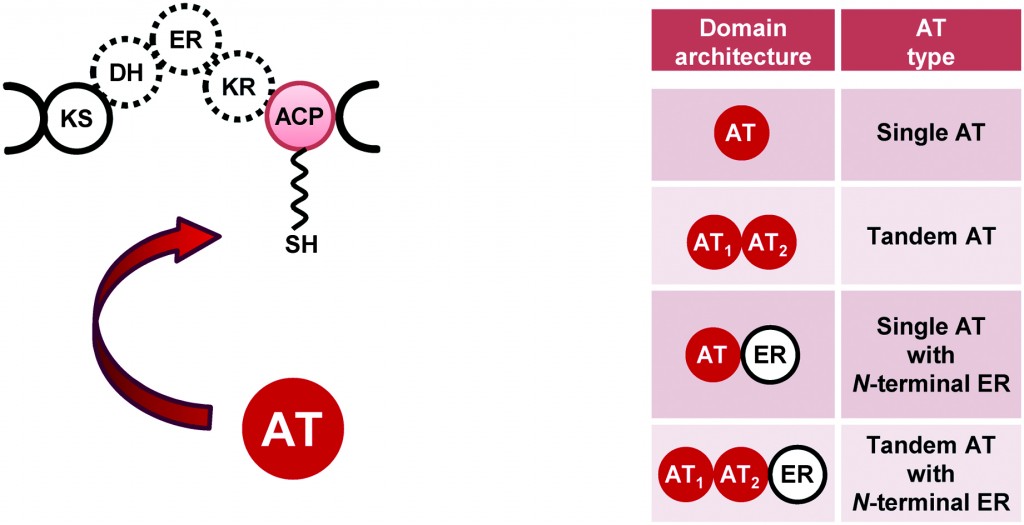 Included in this review are discussions on:
MmpC involved in mupirocin biosynthesis
OzmM and OzmC involved in oxazolomycin biosynthesis
RhiG involved in rhizoxin biosynthesis
VirI involved in virginiamycin biosynthesis
TaV involved in myxovirescin biosynthesis
BryP involved in bryostatin biosynthesis
…. and many more.
Discrete acyltransferases involved in polyketide biosynthesis
Ewa Maria Musiol and Tilmann Weber
Med. Chem. Commun., 2012,
DOI: 10.1039/C2MD20048A
This review is part of our forthcoming themed issue on Natural Products, guest edited by Professor Christopher T. Walsh and Dr Sylvie Garneau-Tsodikova – keep checking back for more hot research in this theme.