Researchers from the University of Tokyo and the CEA-Leti research institute in France have designed a platform that allows channels to be written and rewritten at will in a fluid layer atop a grid of electrodes.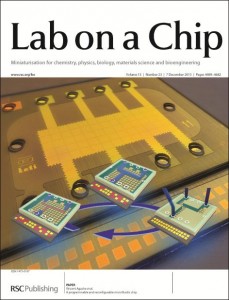 In their recent cover article in Lab on a Chip, Raphael Renaudot and colleagues describe this novel device, which is based on the Electrowetting on Dielectric (EWOD) and Liquid Dielectrophoresis (LDEP) phenomena1. Their goal was to create a flexible, reusable platform that would enable the creation of microfluidic devices without the use of expensive microfabrication techniques. The fluid layer of the device is filled with liquid paraffin, which can easily be solidified and re-melted via thermoelectric cooling and heating (its melting temperature is 35° C.) Water is injected into the paraffin layer, and its flow path is controlled via the underlying electrode layer, which is made up of a grid of 83 electrodes (the small squares seen in the figure). By tuning the interfacial tension between the water and the surface of each electrode via the independently controlled electrode voltages, it is possible to guide a channel (or "finger") of water along the desired path on the grid (see figure).
After the water is guided into the desired path, the device is cooled, solidifying the paraffin and setting the channels in place. Later, the device can be reheated to erase the existing channels, and a new design can be drawn. The chip can be reused multiple times, reducing waste and making it very useful for prototype testing and low-cost applications. The authors demonstrated two chip designs using the reconfigurable platform: a droplet generator and a device for E. coli confinement within a fluidic cavity.
Read this HOT article in Lab on a Chip today!
A Programmable and Reconfigurable Microfluidic Chip, Raphael Renaudot, Vincent Agache, Yves Fouillet, Guillaume Laffite, Emilie Bisceglia, Laurent Jalabert, Momoko Kumemura, Dominique Collard and Hiroyuki Fujita. DOI: 10.1039/c3lc50850a
References:
T. B. Jones and K. L. Wang, Langmuir 2004, 20 (7), 2813–2818.