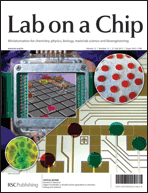 This week we're celebrating our 150th issue at Lab on a Chip. Albert van den Berg, Deputy Chair of our Editorial Board, writes about the journal's history and its exciting future, in his editorial.
The issue's front cover features artwork from Kamlesh Patel and colleagues, whose critical review discusses the recent advances in digital microfluidics, focusing on applications for chemistry, biology and medicine. Topics discussed include the use of droplets for chemical synthesis, enzyme assays and the analysis of blood.
Digital microfluidics: a versatile tool for applications in chemistry, biology and medicine
Mais J. Jebrail, Michael S. Bartsch and Kamlesh D. Patel
DOI: 10.1039/C2LC40318H
---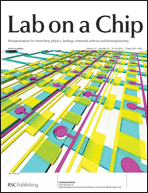 A communication from
Yanyi Huang
and co-workers demonstrating an integrated microfluidic
immunoassay chip
for high-throughput sandwich immunoassay tests is featured on the inside front cover.
The authors state the device can perform ELISA measurements in one hour with just 1 μL of sample for four repeats.
High-throughput immunoassay through in-channel microfluidic patterning
Chunhong Zheng, Jingwen Wang, Yuhong Pang, Jianbin Wang, Wenbin Li, Zigang Ge and Yanyi Huang
DOI: 10.1039/C2LC40145B
---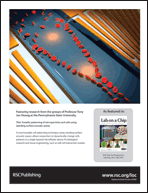 The back cover features artwork from
Tony Jun Huang
and colleagues, whose paper on
acoustic-based tunable patterning
demonstrates a technique that can arrange microparticles or cells into arrays using pairs of slanted-finger interdigital transducers.
Tunable patterning of microparticles and cells using standing surface acoustic waves
Xiaoyun Ding, Jinjie Shi, Sz-Chin Steven Lin, Shahrzad Yazdi, Brian Kiraly and Tony Jun Huang
DOI: 10.1039/C2LC21021E
Also in this issue is the latest Research highlight from Ali Khademhosseini, and Acoustofluidics 14: Applications of acoustic streaming in microfluidic devices from Martin Wiklund and co-authors.
Read the rest of the issue here.