Scott Manalis and coworkers at MIT have developed a microfluidic version of the "baby-machine", a device used to synchronize eukaryotic cells at a specific point in the cell cycle for study of cellular and molecular processes.
The original method which was developed in the 1960s chemically bound cells to a membrane. As they divide one cell remains attached to the membrane and the 'newborn' cell is eluted, producing a synchronised population of cells in the G1 phase of the cell cycle.  However, the method of chemically attaching cells to the membrane is not suitable for all cell types.  Manalis et al have modified this procedure to attach cells by applying pressure differences to capture cells on their microfluidic device, thereby avoiding the use of chemicals that can make cells non-viable.
Read more…
A microfluidic "baby machine" for cell synchronization
Josephine Shaw, Kristofor Payer, Sungmin Son, William H. Grover and Scott R. Manalis
DOI: 10.1039/C2LC40277G
---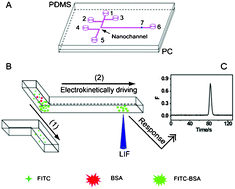 Xing-Hua Xia and colleagues at Nanjing University have recently improved on the fluorescent analysis of proteins by utilising the confines of a nanochannel in a microfluidic device.  The nanochannel allows the efficient concentration of proteins and separates labelled proteins from unreacted fluorescent labels due to size.  This removes the need for purification to remove the unreacted dye on an external chromatographic instrument and allows protein concentration, labelling, and purification in continuous manner in one device.
Read more…
Rapid protein concentration, efficient fluorescence labeling and purification on a micro/nanofluidics chip
Chen Wang, Jun Ouyang, De-Kai Ye, Jing-Juan Xu, Hong-Yuan Chen and Xing-Hua Xia
DOI: 10.1039/C2LC20977B
These latest two HOT articles are free to access for 4 weeks following a simple registration for individual users