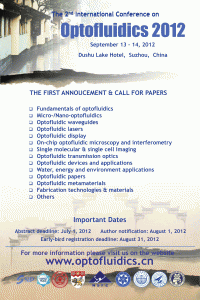 The 2nd International Conference on Optofluidics will be held later this year in Dushu Lake Hotel, Suzhou, China between September 13-14, and the submission deadline for abstracts is fast approaching.
The conference will cover the fundamentals of optofluidics, through to fabrication and applications of optofluidic micro- and nano-devices.
Important dates for your diary:
Abstract deadline July 1 2012
Early-bird registration deadline August 31 2012
Lab on a Chip will be publishing a themed issue on optofluidics to coincide with the conference, from papers presented at last year's conference.