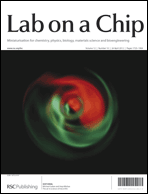 Issue 10 of Lab on a Chip is now available online. This week's front cover features the winning image from the µTAS 'Art in Science' award, which was presented to Dong Jin Shin at the 15th International Conference on Miniaturized Systems for Chemistry and the Life Sciences (µTAS) held in Seattle, Washington, USA, on October 2–6, 2011. The image is entitled 'Ying and Yang in a Droplet' – more information can be found in the editorial.
The art in science of microTAS
Michael Gaitan and Harp Minhas
DOI: 10.1039/C2LC90034C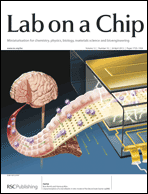 The inside front cover features work from Ross Booth and Hanseup Kim at the University of Utah. They have developed a microfluidic blood-brain barrier that mimics the in vivo equivalent, using a thin culture membrane. They hope the model will give insight into blood-brain barrier studies and drug delivery methods.
Characterization of a microfluidic in vitro model of the blood-brain barrier (μBBB)
Ross Booth and Hanseup Kim
DOI: 10.1039/C2LC40094D
Another HOT article included in this issue comes from Frances Ligler and colleagues at the Naval Research Laboratory in Washington, DC, and introduces the "MagTrap" device that can perform automated target capture, efficient mixing with reagents, and controlled target release using 6 pairs of magnets in a rotating wheel.
Spinning magnetic trap for automated microfluidic assay systems
Jasenka Verbarg, Kian Kamgar-Parsi, Adam R. Shields, Peter B. Howell and Frances S. Ligler
DOI: 10.1039/C2LC21189K
Also included in the issue are this week's Research highlight from Dr Ali Khademhosseini and Acoustofluidics 11 by Per Augustsson and Thomas Laurell, entitled 'Affinity specific extraction and sample decomplexing using continuous flow acoustophoresis'.
Read the rest of issue 10 here