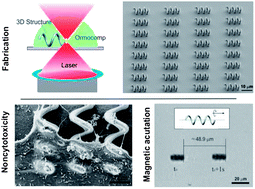 Targeted drug delivery has developed greatly over the past fifty years although it remains a largely uncontrolled exercise. In general, even the most effective vectors rely on passive targeting analogous to a driver travelling from Land's End to John o' Groats by making random turns until they see a sign saying "Welcome to John o' Groats".
Nano- and microrobots have the potential to offer a more guided method of drug delivery as well as facilitating new approaches to non-invasive surgery and diagnosis. A recent paper by Qiu et al. describes the preparation of a helical microrobot inspired by the flagella used to propel bacteria. To start with, polymer helices of around 10 µm in length were prepared using a two-photon polymerisation whereby a laser is used to "write" a 3D structure is photoresist. These helices were then covered in iron or iron/titanium thin films.
It was found that by using low-strength magnetic fields it was possible to control the movement of the helices through water. Pleasingly, the helices also showed no signs of cytotoxicity according to both direct cellular imaging and an MTT assay.
Noncytotoxic artificial bacterial flagella fabricated from biocompatible ORMOCOMP and iron coating
Famin Qiu, Li Zhang, Kathrin E. Peyer, Marco Casarosa, Alfredo Franco-Obregón, Hongsoo Choi and Bradley J. Nelson
J. Mater. Chem. B, 2014, 2, 357.  DOI:10.1039/C3TB20840k
James Serginson is a guest web writer for the Journal of Materials Chemistry blog. He currently works at Imperial College London carrying out research into nanocomposites.
To keep up-to-date with all the latest research, sign-up to our RSS feed or Table of contents alert.