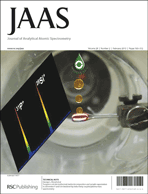 Soon we will be publishing a themed issue on Elemental Imaging in the field of analytical atomic spectrometry. The aim is to highlight imaging techniques and methods, including a mixture of both fundamental advances and exciting new applications.
Guest edited by:
Jorge Pisonero, University of Oviedo
Vincent Smentkowski, General Electric Global Research
Nerea Bordel, University of Oviedo
The submission deadline for the forthcoming themed issue of JAAS on Elemental Imaging was February 8th. We are still currently accepting submissions for this issue.
If you work in the field of elemental imaging submit your work today!
All articles will be peer-reviewed, and to be suitable for publication, must meet the usual quality and significance standards of the journal.  Please indicate in your covering letter that your article is to be considered for the Elemental Imaging theme. Email jaas-rsc@rsc.org for more information.