Researchers shed light on new explanation for how mammalian zygotes safeguard their survival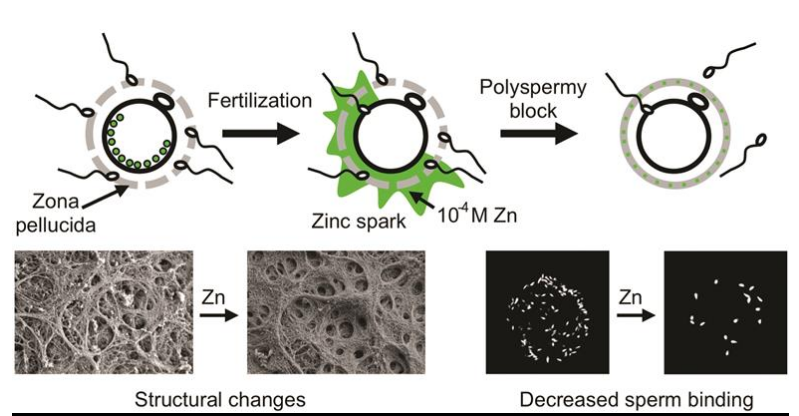 Bursts of zinc released within minutes of fertilisation stop reproductive chaos by preventing multiple sperm from binding to eggs, new research shows. 
A team led by Teresa Woodruff and Thomas O'Halloran at Northwestern University, US, first witnessed the almost immediate efflux of billions of zinc ions upon mammalian egg fertilisation with x-ray fluorescence microscopy in 2010. These zinc sparks look like supernovae, according to O'Halloran. Diffusing away from the cell's membrane, the zinc ions encounter the zona pellucida, a glycoprotein matrix surrounding the egg. Now the team has revealed that zinc retained by the zona pellucida induces changes that harden its protein structure within 30–60 minutes of fertilisation, making it more resistant to sperm binding.
Read the full article in Chemistry World.
---
Zinc sparks induce physiochemical changes in the egg zona pellucida that prevent polyspermy
Emily L. Que, Francesca E. Duncan, Amanda R. Bayer, Steven J. Philips, Eric W. Roth, Reiner Bleher, Sophie C. Gleber, Stefan Vogt, Teresa K. Woodruff and Thomas V. O'Halloran
DOI: 10.1039/c6ib00212a