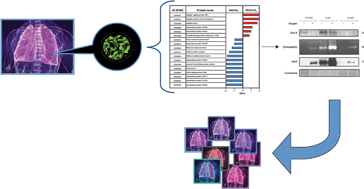 Proteomics has given scientists new insights into how bacteria infect and colonise the lungs of cystic fibrosis (CF) patients.
The paper from Gabriella Bergamini and colleagues from Verona, Milan and Tuebingen, uses MudPIT analysis of polypeptides produced by strains of the bacterium Pseudomonas aerunginosa, which is commonly found in the lungs of CF patients, to discover molecules which allow the bacterium to evade the host immune system and cause inflammation in the lung. The authors found that strains isolated at different stages of infection expressed different sets of proteins to either help establish a culture or maintain growth in the lung.
In strains taken from the early stages of infection, bacteria secrete pro-inflammatory molecules, such as metalloproteases (MMPs). MMPs also prevent host neutrophils from destroying bacteria by cleaving the chemokine receptor CXCR1. This prevents signalling which would stimulate the neutrophil to phagocytose the bacterium.
Pseudomonas aerunginosa infection is the main cause of death in CF patients and this study has given us some clues as to how infections in the future could be treated. To find out more, download this HOT article here – it's free for the next four weeks.
MudPIT analysis of released proteins in Pseudomonas aeruginosa laboratory and clinical strains in relation to pro-inflammatory effects
Gabriella Bergamini, Dario Di Silvestre, Pierluigi Mauri, Cristina Cigana, Alessandra Bragonzi, Antonella De Palma, Louise Benazzi, Gerd Döring, Baroukh Maurice Assael, Paola Melotti and Claudio Sorio
Integr. Biol., 2012, 4, 270-279
DOI: 10.1039/C2IB00127F