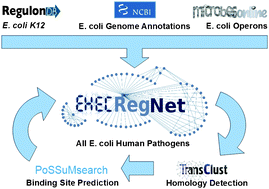 Almost a year has passed since the devastating Enterohemorrhagic E. coli (EHEC) epidemic in Western Europe and the numbers still make sombre reading. Farmers lost millions of Euros in an outbreak where nearly 4,500 people became infected and more than 50 people lost their lives. Scientists are still learning lessons from the bacterium at the centre of  last year's events, in the hope that, should a similar pathogen threaten human lives again, we will be better equipped to fight it.
This paper from Josch Pauling, Richard Roettger and colleagues from Germany, Mexico and Brazil presents the resource EhecRegNet, an online database and analysis platform to investigate the transcriptional regulatory networks which control traits such as pathogenicity, reproduction and survival of cells. Using the lab-based E. coli K12 strain as a model, the authors were able to identify interactions which had been conserved between K12 and any one of 16 human pathogenic strains. An interaction was designated as conserved if both the target gene and binding site were preserved between strains. The authors hope that this resource will be used to show suitable targets for further investigation and lab work.
This article forms part of our upcoming themed issue on Computational Integrative Biology and will be available online for free for the next four weeks. Download the article here and see what else EhecRegNet has to offer.
On the trail of EHEC/EAEC—unraveling the gene regulatory networks of human pathogenic Escherichia coli bacteria
Josch Pauling, Richard Röttger, Andreas Neuner, Heladia Salgado, Julio Collado-Vides, Prabhav Kalaghatgi, Vasco Azevedo, Andreas Tauch, Alfred Pühler and Jan Baumbach
DOI: 10.1039/C2IB00132B