Welcome to the first 2012 issue of Integrative Biology!
With this issue we welcome our new Editorial Board Chair, Professor Douglas Lauffenburger, and thank Professor Mina Bissell for her leadership as the inaugural Chair.  Professor Lauffenburger sets out his aim for the journal's future in his editorial, The multiple dimensions of Integrative Biology.
The exciting cover image is courtesy of Alexander Goryaynov et al., to accompany their review article on single-molecule studies of nucleocytoplasmic transport.  This article is free to access for 6 weeks, so do take a look.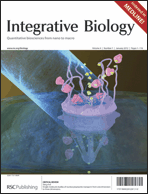 The issue also contains hot review articles from Paolo Gualtieri et al., Fundamental questions and concepts about photoreception and the case of Euglena gracilis and Bio-inspired materials for parsing matrix physicochemical control of cell migration: A review by Hyung-Do Kim and Shelly R Peyton.