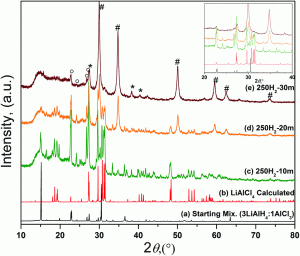 Researchers from Iowa State University have recently developed a route to non-solvated aluminum trihydride (alane), free of metallic aluminum. The reaction occurs at room temperature by the mechanical milling of lithium aluminum hydride and aluminum chloride and a nearly complete conversion can be achieved in 30–60 mins. The formation of aluminum can be entirely avoided above a certain critical pressure, which depends on the nature of the gas and the milling parameters. An intermediate was identified in the process, which reacts to produce alane and lithium chloride.
Due to the impractical conditions required for the direct hydrogenation of aluminum, alternative routes that allow for the large-scale preparation of alane are essential, for example the one described in this paper. The authors have also recently introduced a mechanochemical synthesis of alane using lithium hydride as a starting material, which directly leads to adduct-free alane.
Check out the original article online now:

Solvent-free mechanochemical synthesis of alane, AlH3: effect of pressure on the reaction pathway
S. Gupta, T. Kobayashi, I. Z. Hlova, J. F. Goldston, M. Pruski, and V. K. Pecharsky
Green Chem. 2014, 16, 4378.
DOI: 10.1039/C4GC00998C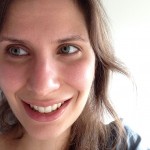 Jenna Flogeras obtained her B.Sc. and M.Sc. in Chemistry from the University of New Brunswick (Fredericton), Canada. She is currently a Ph.D. student at Memorial University in Newfoundland, where she studies aluminum-based catalysts under the supervision of Dr. Francesca Kerton.