Scientists from Singapore have employed an ionic liquid to fabricate polybenzimidazole (PBI) membranes for protein separation and water reuse.
PBI has been extensively investigated in the field of membrane separation technologies due to its high glass transition temperature, stable thermal properties and excellent chemical resistance in harsh environments.   One major drawback of PBI though is its low solubility.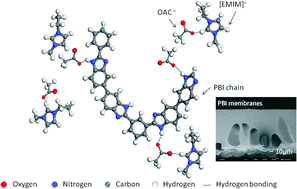 Only a few highly polar and aprotic organic solvents are able to dissolve PMI (such as DMSO, DMF and N,N-dimethylacetamide), but these are relatively toxic and volatile.
Here, the team from the National University of Singapore led by Tai-Shung Chung found that 1-ethyl-3-methylimidazolium acetate ([EMIM]OAc) was able to dissolve PBI under much lower temperatures and pressures compared to traditional solvents.  The acetate anion of the ionic liquid could form hydrogen bonds with the PBI chains, effectively breaking the interchain bonding in PBI. Ultrafiltration membranes could then be made from the PBI-[EMIM]OAc solution by a non-solvent induced phase separation method, with the resulting membranes achieving a high separation factor. 
This article is free to access until the 27th April 2012!  Click on the link below to find out more…
Molecular interactions between polybenzimidazole and [EMIM]OAc, and derived ultrafiltration membranes for protein separation, Ding Yu Xing ,  Sui Yung Chan and Tai-Shung Chung, Green Chem., 2012, DOI: 10.1039/C2GC35134J  
Stay up-to-date with the latest content in Green Chemistry by registering for our free table of contents alerts.