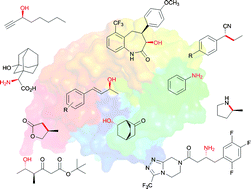 Biocatalysis has undergone dramatic improvements in recent years, becoming an alternative method to chemocatalysis.  Due to their inherent chirality, enzymes are able to selectively catalyse reactions giving the products with high enantioselectivity.
Reduction reactions with enzymes has developed rapidly in the past few years.  Previously, biocatalytic reductions have been challenging due to the dependency of the enzyme on a co-factor, narrow substrate range and restrictions to reactions in aqueous media.  However, the majority of these challenges have now been, or are about to be, solved.
In this review article, Hollmann and co-workers give an overview of the recent developments in biocatalytic reduction, with a critical view on the green aspects.  To read more, please read the full article, which is free until 12 August, by clicking the link below. 
Enzymatic reductions for the chemist, Frank Hollmann, Isabel W. C. E. Arends and Dirk Holtmann, Green Chem., 2011, DOI: 10.1039/C1GC15424A
You may also be interested in the following review, free until 12 August:
Enzyme-mediated oxidations for the chemist, Frank Hollmann, Isabel W. C. E. Arends, Katja Buehler, Anett Schallmey and Bruno Bühler, Green Chem., 2011, 13, 226-265