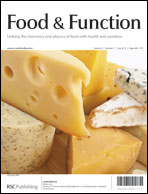 Food & Function issue 7 is now online; you can read it in full here.  This issue contains an Editorial introducing the new editors in food structure and functionality.  Tim Foster (Nottingham University, UK) joins Steven Feng Chen and Cesar Fraga as Associate Editor and Nissim Garti joins the Editorial Board.  Read the editorial here and read Nissim Garti's Review on lyotropic liquid crystals (LLC) as delivery vehicles for cosmetoceuticals, nutraceuticals, and drugs, also contained in this issue, here.
The front cover features work form Michel Britten and co-workers in Quebec, Canada.  In their study the team investigate the influence of the physical characteristics of cheeses (including cheddar and mozzarella) on digestion in an in-vitro model.  The team relate the matrix degradation and fatty acid release of the cheese in relation to its matrix composition, rheological properties and microstructure. 
Read the full article online here, free until 1st August.
You can keep up to date with the latest developments from Food & Function by signing up for free table of contents alerts and monthly e-newsletters.