Oral abstracts deadline – 23 November 2012
We invite you to join us for Mesostructure and Dynamics in Liquids and Solutions: Faraday Discussion 167 which will cover:
Mesoscopic structure in pure liquids
Structure around solutes and in mixtures
Crystal nucleation
Liquid-liquid phase transitions
Structure near interfaces
Submit your abstract today via our new submission system. You can find more details about submitting your abstract here.



Confirmed speakers:
Hajime Tanaka (Introductory),University of  Tokyo, Japan
Austen Angell (Closing), Arizona State University, USA
Alessandro Triolo, Istituto Struttura della Materia, Italy
Jean-Louis Barrat, Universite Joseph Fourier, France
David Chandler, University of California Berkeley, USA
Pablo Debenedetti, Princeton University, USA
Karen Edler, University of Bath, UK
Valeria Molinero, University of Utah, USA
Michel Orrit, University of Leiden, The Netherlands
Greg Voth, University of Chicago, USA
Faraday Discussions are a long-established series of meetings which provide a unique international platform for the exchange of views and newly acquired results in developing areas of physical chemistry, biophysical chemistry and chemical physics.
All the presented papers and the discussion, including new research presented by any delegate, are published together in the Faraday Discussion volume. The latest Impact Factor is 5.0.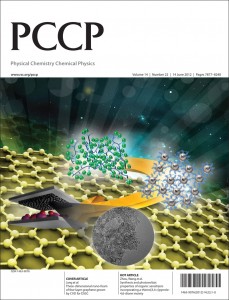 Physical Chemistry Chemical Physics (PCCP) is a sister journal to Faraday Discussions. PCCP brings you content of the highest quality in physical chemistry, chemical physics and biophysical chemistry.
We invite you to submit your research to PCCP today.
Recent articles from PCCP in this area include:
Simulating water with rigid non-polarizable models: a general perspective
Carlos Vega and Jose L. F. Abascal
DOI: 10.1039/C1CP22168J
On the different roles of anions and cations in the solvation of enzymes in ionic liquids
Marco Klähn, Geraldine S. Lim, Abirami Seduraman and Ping Wu
DOI: 10.1039/C0CP01509A
Depolarization of water in protic ionic liquids
Stefan Zahn, Katharina Wendler, Luigi Delle Site and Barbara Kirchner
DOI: 10.1039/C1CP20288J
The importance of ion size and electrode curvature on electrical double layers in ionic liquids
Guang Feng, Rui Qiao, Jingsong Huang, Sheng Dai, Bobby G. Sumpter and Vincent Meunier
DOI: 10.1039/C0CP02077J
Check out our recent PCCP themed issues on Physics and chemistry of ice and water and Interfaces of Ionic Liquids.