We are pleased to announce the publication of Faraday Discussion 159 on Crystallisation – A Biological Perspective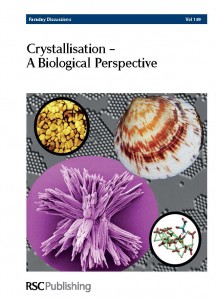 Take a look at the volume today
In the volume you can find all the papers and exciting discussion from the conference held in Leeds Metropolitan University, UK in September 2012. You can read more about what went on in our previous post.
Highlights in this volume include:
The Spiers Memorial lecture given by Daan Frenkel:
Effect of interaction specificity on the phase behaviour of patchy particles
Nicolas Dorsaz, Laura Filion, Frank Smallenburg and Daan Frenkel
DOI: 10.1039/C2FD20070H
A metastable liquid precursor phase of calcium carbonate and its interactions with polyaspartate
Mark A. Bewernitz, Denis Gebauer, Joanna Long, Helmut Cölfen and Laurie B. Gower
DOI: 10.1039/C2FD20080E
The thermodynamics of calcite nucleation at organic interfaces: Classical vs. non-classical pathways
Q. Hu, M. H. Nielsen, C. L. Freeman, L. M. Hamm, J. Tao, J. R. I. Lee, T. Y. J. Han, U. Becker, J. H. Harding, P. M. Dove and J. J. De Yoreo
DOI: 10.1039/C2FD20124K
Faraday Discussions documents a long-established series of meetings which provide a unique international platform for the exchange of views and newly acquired results in developing areas of physical chemistry and its boundaries with other areas of science. The latest Impact Factor is 5.0.
Don't miss out – find out more and take a look at future Faraday Discussions.
______________________________________________________________________________________________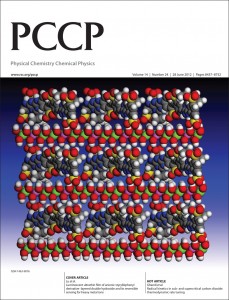 Also check out the latest research in some of Faraday Discussions sister journals…
Physical Chemistry Chemical Physics (PCCP):
The structure, thermal properties and phase transformations of the cubic polymorph of magnesium tetrahydroborate
W. I. F. David, S. K. Callear, M. O. Jones, P. C. Aeberhard, S. D. Culligan, A. H. Pohl, S. R. Johnson, K. R. Ryan, J. E. Parker, P. P. Edwards, C. J. Nuttall and A. Amieiro-Fonseca
DOI: 10.1039/C2CP23439D
Pressure amorphized ices – an atomistic perspective
John S. Tse and Dennis D. Klug
DOI: 10.1039/C2CP40201G
Functional noble metal nanoparticle superlattices grown at interfaces
Keisaku Kimura and Thalappil Pradeep
DOI: 10.1039/C1CP22279A
Colloidal graphenes as heterogeneous additives to enhance protein crystal yield
Benjamin S. Gully, Jianli Zou, Gemma Cadby, Daniel M. Passon, K. Swaminathan Iyer and Charles S. Bond
DOI: 10.1039/C2NR31150J
The kinetics and mechanisms of amorphous calcium carbonate (ACC) crystallization to calcite, via vaterite
Juan Diego Rodriguez-Blanco , Samuel Shaw and Liane G. Benning
DOI: 10.1039/C0NR00589D
In situ TEM observation of lithium nanoparticle growth and morphological cycling
Jay Ghatak, Wei Guan and Günter Möbus
DOI: 10.1039/C2NR11546H
Browse the Nanoscale themed issue on Crystallization and Formation Mechanisms of Nanostructures, Guest Edited by Fiona Meldrum and Helmut Cölfen.