Call for oral abstracts deadline – 23 November 2012
We invite you to join us for Self-assembly of Biopolymers: Faraday Discussion 166 which will cover:
• Self-assembly of polymer/protein conjugates or polymer/virus conjugates
• DNA condensation using polyelectrolytes
• Self-assembly of polymersomes
• Self-assembly of carbohydrate/glyco polymer hybrid materials
Submit your abstract today via our new submission system.
You can find more details about submitting your abstract here.
Confirmed speakers:
• Professor Samuel Stupp (Introductory), Northwestern University, USA
• Professor Cameron Alexander (Closing), University of Nottingham, UK
• Professor Carlos Aleman, Universitat Politecnica de Catalunya, Spain
• Professor Dr Hans Boerner, Humboldt University of Berlin, Germany
• Professor Jeroen Cornelissen, University of Twente, The Netherlands
• Professor Mustafa Guler, Bilkent University, Turkey
• Professor Jeff Hartgerink, Rice University, USA
• Professor Sebastien Lecommandoux, Institut Polytechnique de Bordeaux, France
• Professor Raffaele Mezzenga, ETH Zurich, Switzerland
• Professor Maite Paternostre, Institut de Biologie et de Technologies de Saclay, France
• Professor Cyrus Safinya, University of California, Santa Barbara, USA
Faraday Discussions are a long-established series of meetings which provide a unique international platform for the exchange of views and newly acquired results in developing areas of physical chemistry, biophysical chemistry and chemical physics.
All the presented papers and the discussion, including new research presented by any delegate, are published together in the Faraday Discussion volume. The latest Impact Factor is 5.0.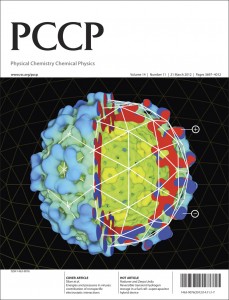 Physical Chemistry Chemical Physics (PCCP) is a sister journals to Faraday Discussions. PCCP brings you content of the highest quality in physical chemistry, chemical physics and biophysical chemistry.
Recent articles from PCCP in this area include:
Nanostructured polymer assemblies formed at interfaces: applications from immobilization and encapsulation to stimuli-responsive release
Yajun Wang, Leticia Hosta-Rigau, Hannah Lomas and Frank Caruso
DOI: 10.1039/C0CP02287J
Rheo-attenuated total reflectance infrared spectroscopy: a new tool to study biopolymers
Maxime Boulet-Audet, Fritz Vollrath and Chris Holland
DOI: 10.1039/C0CP02599B
Hierarchical superstructure of alkylamine-coated ZnS nanoparticle assemblies
Nataly Belman , Jacob N. Israelachvili , Youli Li , Cyrus R. Safinya , Vladimir Ezersky , Alexander Rabkin , Olga Sima and Yuval Golan
DOI: 10.1039/C0CP00999G
BaCO3 mesocrystals: new morphologies using peptide–polymer conjugates as crystallization modifiers
Tongxin Wang, James Mitchell, Hans Börner, Helmut Cölfen and Markus Antonietti
DOI: 10.1039/C0CP00819B
Check out our recent PCCP themed issues in this area:
• Materials innovation through interfacial physics and chemistry
• Nano-bio: The interface between bio-systems and nano-devices
You may also be interested in these other RSC Publishing journals: Soft Matter, Polymer Chemistry, and new journal Biomaterials Science which is currently free to access.