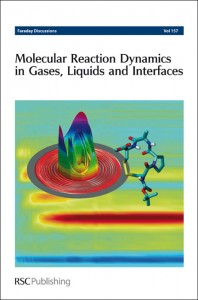 We are pleased to announce the publication of Faraday Discussion 157, which we hope will be of interest to you:
Molecular Reaction Dynamics in Gases, Liquids and Interfaces
Take a look at the volume today
In the volume you can find all the papers and exciting discussion from the conference held in Assisi, Italy, in June 2012. These are just some of the highlights:
Molecular reaction dynamics across the phases: similarities and differences
F. Fleming Crim
DOI: 10.1039/C2FD20123B
Imaging the effects of the antisymmetric stretch excitation of CH4 in the reaction with F atom
Hiroshi Kawamata, Weiqing Zhang and Kopin Liu
DOI: 10.1039/C2FD20004J
Reaction dynamics at a metal surface; halogenation of Cu(110)
A. Eisenstein, L. Leung, T. Lim, Z. Ning and J. C. Polanyi
DOI: 10.1039/C2FD20023F
Faraday Discussions documents a long-established series of meetings which provide a unique international platform for the exchange of views and newly acquired results in developing areas of physical chemistry and its boundaries with other areas of science. The latest Impact Factor is 5.0.
Don't miss out – find out more and take a look at future Faraday Discussions.
---
Physical Chemistry Chemical Physics
(PCCP)
is a sister journal of
Faraday Discussions
. PCCP brings you content of the highest quality in physical chemistry, chemical physics and biophysical chemistry. With high-impact research, and a truly international readership, PCCP is the ideal place to publish.
We invite you to submit your research to PCCP today.
Some recent 'PCCP Perspective' review articles on reaction dynamics:
The role of molecular modeling in confined systems: impact and prospects
Keith E. Gubbins, Ying-Chun Liu, Joshua D. Moore and Jeremy C. Palmer
DOI: 10.1039/C0CP01475C
High-dimensional ab initio potential energy surfaces for reaction dynamics calculations
Joel M. Bowman, Gábor Czakó and Bina Fu
DOI: 10.1039/C0CP02722G
The fourth age of quantum chemistry: molecules in motion
Attila G. Császár, Csaba Fábri, Tamás Szidarovszky, Edit Mátyus, Tibor Furtenbacher and Gábor Czakó
DOI: 10.1039/C1CP21830A
Also check out these recent PCCP themed issues: