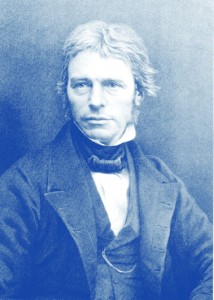 We would like to share with you some of the high impact international research recently published in Faraday Discussions.
Faraday Discussions are meetings which provide a unique international platform for the exchange of views and newly acquired results in developing research areas.
Faraday Discussions attract world-class speakers, including many Nobel Prize winners.
The papers and discussion are published in a Faraday Discussions volume. The latest Impact Factor is 4.5.
We have a packed programme of discussions in 2012. Please follow the links below to find out more:
Read these high impact papers from recent Faraday Discussions for free today:
Realizing artificial photosynthesis
Devens Gust, Thomas A. Moore and Ana L. Moore
DOI: 10.1039/C1FD00110H
Ionic Liquids: Past, present and future
C. Austen Angell , Younes Ansari and Zuofeng Zhao
DOI: 10.1039/C1FD00112D
Interplay of theory and computation in chemistry—examples from on-water organic catalysis, enzyme catalysis, and single-molecule fluctuations
R. A. Marcus
DOI: 10.1039/B920917B
Multiscale simulation of soft matter systems
Christine Peter and Kurt Kremer
DOI: 10.1039/B919800H
Exploring nanoscale hydrophobic hydration
Peter J. Rossky
DOI: 10.1039/C005270C
Role of perimeter interfaces in catalysis by gold nanoparticles
Masatake Haruta
DOI: 10.1039/C1FD00107H
Copper dioxygen (bio)inorganic chemistry
Edward I. Solomon, Jake W. Ginsbach, David E. Heppner, Matthew T. Kieber-Emmons, Christian H. Kjaergaard, Pieter J. Smeets, Li Tian and Julia S. Woertink
DOI: 10.1039/C005500J
New ionization methods and miniature mass spectrometers for biomedicine: DESI imaging for cancer diagnostics and paper spray ionization for therapeutic drug monitoring
R. Graham Cooks, Nicholas E. Manicke, Allison L. Dill, Demian R. Ifa, Livia S. Eberlin, Anthony B. Costa, He Wang, Guangming Huang and Zheng Ouyang
DOI: 10.1039/C005327A
Hydrogen as a fuel for today and tomorrow: expectations for advanced hydrogen storage materials/systems research
Katsuhiko Hirose
DOI: 10.1039/C1FD00099C
Gold nanoparticle-polymer/biopolymer complexes for protein sensing
Daniel F. Moyano , Subinoy Rana , Uwe H. F. Bunz and Vincent M. Rotello
DOI: 10.1039/C1FD00024A
Spectroscopy and astronomy: H3+ from the laboratory to the Galactic center
Takeshi Oka
DOI: 10.1039/C1FD00092F
Ultrafast laser control of electron dynamics in atoms, molecules and solids
Matthias Wollenhaupt and Thomas Baumert
DOI: 10.1039/C1FD00109D
You can find all the papers and discussion from each of these exciting volumes of Faraday Discussions on our website.