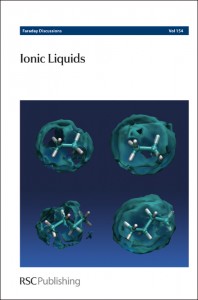 Faraday Discussion 154: Ionic Liquids has now been published online.
Take a look at this exciting volume which covers the following themes:
Thermodynamics and phase behavior of ionic fluids
Microscopic and mesoscopic structure: experiments and simulations
Transport and relaxation in ionic liquids
Chemical reactivity and interfacial behavior
In the volume you can find all the papers and exciting discussion from the conference held in Belfast, UK, in August. These are just some of the highlights:
Ionic Liquids: Past, present and future
C. Austen Angell, Younes Ansari and Zuofeng Zhao
DOI: 10.1039/C1FD00112D
Electron solvation dynamics and reactivity in ionic liquids observed by picosecond radiolysis techniques
James F. Wishart, Alison M. Funston, Tomasz Szreder, Andrew R. Cook and Masao Gohdo
DOI: 10.1039/C1FD00065A
Adsorption, absorption and desorption of gases at liquid surfaces: water on [C8C1Im][BF4] and [C2C1Im][Tf2N]
Alexey Deyko and Robert G. Jones
DOI: 10.1039/C1FD00062D
Using ethane and butane as probes to the molecular structure of 1-alkyl-3-methylimidazolium bis[(trifluoromethyl)sulfonyl]imide ionic liquids
Margarida F. Costa Gomes, Laure Pison, Alfonso S. Pensado and Agilio A. H. Pádua
DOI: 10.1039/C1FD00074H
You can purchase this volume as an individual book through our website.