We are delighted to introduce Mike Elovitz as an Editorial Board Member for our new journal Environmental Science: Water Research & Technology.
Mike Elovitz
Mike completed his Ph.D. at the Department of Environmental Science & Engineering, Oregon Health and Science University. He has been a Research Scientist at the US Environmental Protection Agency since 1997.
Mike conducts research for the Treatment Technology Evaluation Branch in the Water Supply and Water Resources Division of the Office of Research and Development's National Risk Management Research Laboratory. His current research projects focus on computation fluid dynamics modelling approaches to ozone contractor design and halonitromethane formation during chlorination. Mike also investigates mixing in baffled ozone contractors using 3D lased-induced fluorescence and reactive transport model.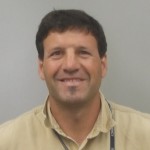 Mike's passion:
"I'm not sure why I care about the environment as much as I do! I guess that if it comes from a place within that can't be explained, then – even  for a scientist – it may not need a rationalization."
Mike Elovitz, Editorial Board Member, Environmental Science: Water Research &Technology
Make sure you don't miss out on the latest journal news by registering your details to receive the regular Environmental Science: Water Research & Technology e-alert.
Follow us on Twitter @ESWater_RSC.