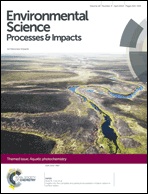 The field of aquatic photochemistry is diverse and strong, therefore our Editorial Board member, Kristopher McNeill presents a themed issue covering a range of topics and sub-disciplines within environmental science, representing current aquatic photochemical research.
Kristopher found the process of guest editing the aquatic photochemistry themed issue rewarding. 'From the very start, I had an enthusiastic response to my call for papers and, when looking at the collection in its final form, I was extremely happy with the quality and breadth of the science that it reflected' he says.
'I was especially happy with the contributions of the young investigators; from whom I am sure we will be seeing a lot more in the future.' Kristopher selected 2 critical reviews and a paper by young investigators who contributed to this collection and for a limited time only, these articles are free* to access. Click the following links to download the full articles.
Critical Reviews:
Photo-transformation of pharmaceutically active compounds in the aqueous environment: a review
Shuwen Yan and Weihua Song
DOI: 10.1039/C3EM00502J
The role of indirect photochemical degradation in the environmental fate of pesticides: a review
Christina K. Remucal
DOI: 10.1039/C3EM00549F
Paper:
Photometric hydroxyl radical scavenging analysis of standard natural organic matter isolates
J. E. Donham, E. J. Rosenfeldt and K. R. Wigginton
DOI: 10.1039/C3EM00663H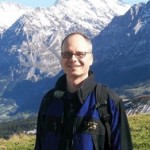 Kristopher's research paper on photochemically produced hydroxyl radical in artic surface water was included in this collection. We would like to thank him for guest editing this exciting issue; his paper will be free* to access until Friday 20th June 2014.
Evidence for dissolved organic matter as the primary source and sink of photochemically produced hydroxyl radical in arctic surface waters
Sarah E. Page, J. Robert Logan, Rose M. Cory and Kristopher McNeill
DOI: 10.1039/C3EM00596H
*Access is free until 20.06.14 through a registered RSC account – click here to register