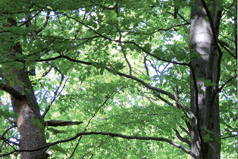 The air above a small forest in the Campine region of Flanders, Belgium, was the subject of this decade-long study to understand ozone flux patterns.  The data, which was presented at the COST International Conference on Ozone, Climate Change and Forests in June last year, shows that rain had a significant effect on the deposition of O3 in the tree canopy.
R. Ceulemans and colleagues found that during the day a dry canopy was the best sink for ozone, whereas at night the converse was true – a wet canopy showed the highest ozone deposition. Read the article for their speculations about non-stomatal deposition:
Insights into ozone deposition patterns from decade-long ozone flux measurements over a mixed temperate forest
J. Neirynck ,  B. Gielen ,  I. A. Janssens and R. Ceulemans
DOI: 10.1039/C2EM10937A
This article is part of the collection: Ozone
This HOT article is free to access for the next four weeks following a simple registration for individual users.