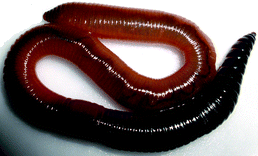 Although the use of the pesticide DDT has been banned in many countries since the 1970's, the infamous organochlorine molecule is stubbornly persistent and can remain in soil for up to 30 years.  Earthworms have shown potential in removing organic pollutants from soil, and this study investigates the possibility of earthworms degrading DDT.
Fang-bai Li and colleagues from South China Agricultural University and Guangdong Institute of Eco-Environmental and Soil Sciences found two earthworm species, E. foetida and A. robustus E. Perrier, significantly enhanced the degradation of DDT to its metabolites DDD, DDE and DDMU and explored the mechanism of bioremediation.
Enhancement effect of two ecological earthworm species (Eisenia foetida and Amynthas robustus E. Perrier) on removal and degradation processes of soil DDT
Zhong Lin, Xiao-min Li, Yong-tao Li, De-yin Huang, Jun Dong and Fang-bai Li
DOI: 10.1039/C2EM30160A
This HOT article is free to access for the next four weeks following a simple registration for individual users.