Efforts towards a less energy and environmentally intensive method for CO2 capture has resulted in a novel porous polymer with noteworthy performance.
Current industrial standards for carbon dioxide scrubbing in coal-fired power plants utilize an energy intensive liqu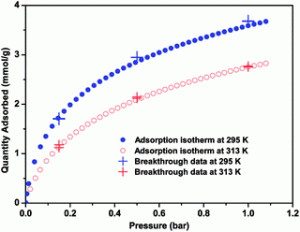 id amine process to reduce CO2 gas emissions. Ultimately, a technology that can reduce the energy input required to release captured CO2 while maintaining substantial adsorption selectivity and capacity would be ideal. Investigations performed at Texas A&M have demonstrated high adsorption capacities of 1.7 mmol CO2 /g polymer with a gas flow comprised of 15% CO2 / 85% N2 under ambient conditions.
This work is the fruit of grafting NH4 groups to the sulfonate sites on a porous polymer network that was previously published, which leads to a higher selectivity to CO2 over N2 and CH4 gases also present in the exhaust streams of coal-fired power plants. Further improvements in adsorption capacity, while reducing the temperature required to remove the captured gas, can eventually yield a cheaper, more environmentally friendly alternative for greenhouse gas sequestration.
Interested? Read the full communication in Energy and Environmental Science here:
Building multiple adsorption sites in porous polymer networks for carbon capture applications
Weigang Lu, Wolfgang M. Verdegaal, Jiamei Yu, Perla B. Balbuena, Hae-Kwon Jeong and Hong-Cai Zhou
DOI: 10.1039/C3EE42226G