EES is pleased to support the 1st International Symposium on Singlet Fission and Photon Fusion, held on 18-21 April 2016.  This new conference series will cover all aspects of singlet fission and photon fusion including both molecular and heavy metal systems, as well as molecular solar thermal storage. Some of the most talented scientists in this exciting up-and-coming field, including chemists, physicists, spectroscopist and theoreticians are coming to present their most recent results. We are certain that this will promote highly stimulating and creative days in Gothenburg (Sweden).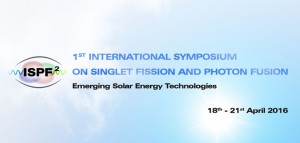 Confirmed Keynote Speakers:
Richard Friend, Cambridge
Felix Castellano, NC State
Stanislav Balouchev, MPI/Sofia
Timothy W. Schmidt, UNSW
Jennifer Dionne, Stanford
Jianzhang Zhao, Dalian University of Technology
Ferdinand Grozema, TU Delft
Confirmed Invited Speakers:
Michel R. Wasielewski, Northwestern
Justin Johnson, NREL
Lüis Campos, Columbia
Nobuo Kimizuka, Kyushu
Ana Morandeira, Uppsala
Michael J. Tauber, UCSD
Dirk Guldi, Erlangen
Christopher Bardeen, UC Riverside,
Yoan Simon, Fribourg
Francesco Meinardi, Milano
David Zhitomirsky, MIT
Due to the strong lineup of confirmed speakers we expect to have 200 participants coming to Gothenburg. The conference has high visibility within the photochemistry and materials science research community. The symposium covers all aspects of the interaction of light and matter, related to singlet fission and photon fusion including photochemistry, photophysics and spectroscopy, and materials science. More information is available at the symposium website.
Looking forward to see you all in Gothenburg!
Maria Abrahamsson and Kasper Moth-Poulsen, on behalf of the organizing committee.