EES are pleased to announce that the Status of Photoelectrochemical Water Splitting: Past, Present, and Future collection, organised by Shane Ardo (The University of California), is now online.
Photoelectrochemical water splitting represents a promising path toward renewable and economical hydrogen generation using sunlight and water as the only inputs. In order to rapidly advance this technology to market-ready status, "all hands on deck" are needed from the scientific and engineering communities.
The aim of this themed collection is to inform those in the photoelectrochemistry field of historical and notable research findings and demonstrations, and to discuss the opportunities and key barriers to achieving this ambitious goal.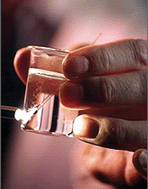 The collection consists of five articles written by experts in the field, describing the current state-of-the-art demonstrations in solar water splitting, approaches to band-structure engineering of semiconductor materials for optimized performance, characterization on small length scales and fast time scales, and efficiency definitions.
Renewable hydrogen generation is a timely topic given the recent expansion of mass-produced, commercially available hydrogen fuel cell vehicles.  This, combined with environmental pressures to move toward a carbon-free energy supply, create an urgent need for rapid discovery, development, and growth of hydrogen generation technologies that are stable, efficient, inexpensive, and sustainable.
View the below articles or access the full collection here.
---
Particle suspension reactors and materials for solar-driven water splitting
David M. Fabian, Shu Hu, Nirala Singh, Frances A. Houle, Takashi Hisatomi, Kazunari Domen, Frank E. Osterloh and Shane Ardo
Energy Environ. Sci.
, 2015, 8, 2825-2850
DOI: 10.1039/C5EE01434D
---
Methods of photoelectrode characterization with high spatial and temporal resolution
Daniel V. Esposito, Jason B. Baxter, Jimmy John, Nathan S. Lewis, Thomas P. Moffat, Tadashi Ogitsu, Glen D. O'Neil, Tuan Anh Pham, A. Alec Talin, Jesus M. Velazquez and Brandon C. Wood
Energy Environ. Sci.
, 2015, 8, 2863-2885
DOI: 10.1039/C5EE00835B